Combining Tanzania's amazing wildlife with the white sand beaches and crystal clear waters of the Indian Ocean should feature on any traveler's list. This once-in-a-lifetime experience combines the very best of both worlds — all in a single holiday. Explore iconic game reserves with thrilling game drives across the savannah plains and superb wildlife viewing. Then head on to the serene seashores lounging on a palm-fringed beach or snorkeling in exquisitely turquoise waters. You're guaranteed an exciting holiday jam-packed with diverse experiences, idyllic relaxation, and unforgettable adventures.
In recent years, Tanzania has quietly asserted itself to become an unbeatable safari and beach destination for modern romantic and conservation-minded travel. With many itineraries covering world-famous destinations like the Serengeti, Ngorongoro Crater, Arusha, and the unspoiled paradise of Zanzibar, you're in for the experience of a lifetime. Ready to plan the ultimate safari and beach adventure? Here are some things to consider:
Safari or beach first
It is usually ideal to do the safari part of your holiday first and ending your trip on the beach. This provides a real sense of balance to your safari experience. Spending time in the African bush can be tiring because some of the most thrilling safari activities like game drives and hot-air balloon rides depart at the crack of dawn. Expect your friendly wake up call to be as early as 5:30 am. Of course, these activities are worth it, but it makes more sense to do them first so you can spend the second part of your holiday chilling.
Book through a Safari Tour Operator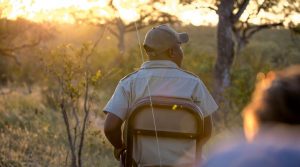 Traveling independently can enhance your experience ten-fold but on a trip like this, having someone else sweat the small stuff means you can experience the adventure you came for. Not only will a tour operator help you design the perfect itinerary to suit your tastes and budget, but they'll also handle key logistics like accommodation, airport transfers, shopping excursions, and any other needed special assistance. Why stress over your complex travel arrangements and local transport for what is a once-in-a-lifetime trip for many people?
When to go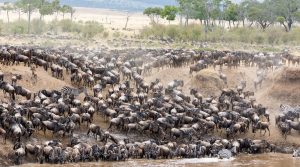 You really can visit Tanzania at any time of the year, however, if you are looking to witness spectacular events like the annual Great Migration, then you're better off arriving during the dry season, which typically runs from June to October. Wildlife viewing during game drives and nature hikes are also much easier since the animals tend to congregate at drinking holes en masse during this period. November to February can experience some short rains, while March to May is the time when steady rainfall makes everything lush and green. The dry season is also a great time to hit up Zanzibar. You get to bask under a fine, clear sky and sunny weather shaded by swaying palm trees and cooling off in the water. However, you may want to avoid coming here at Christmas, as this is peak season and resorts are usually packed.
What to pack
One of the first questions people ask after booking a trip to Africa is "what do I pack"? Of course, you probably already know what to pack for the beach, but what about what to pack for your time in the wild? The first thing to remember is that the temperature can vary rather a lot, so you'll want to pack light layers that you can double up when necessary. If your itinerary includes a walking safari, you'll need to bring hiking boots, otherwise comfy shoes and flip-flops are good enough. The key here is to pack for comfort; items like hats, sunglasses, insect repellents, long earth-toned clothing, and swimming costumes are a must-have. If you're booking through a tour operator, then you shouldn't have to worry about other necessities like drinking water and camping gear.
Read more about our safety and travel tips when visiting Tanzania.
Have some cash on hand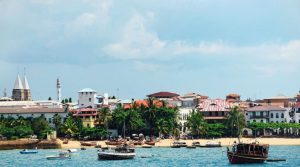 Outside of major cities in Tanzania, you might have trouble using a credit card, so it's best to just have some cash on hand. You never really know when you might need to spend it. You could see some awesome souvenirs along the way that you'd like to buy or for tipping your guide/driver or even for backup in case of emergencies. Luckily, the US Dollar is widely accepted across the country so you don't even have to convert it to the local currency (Tanzanian Shilling).
All in all, combining a safari adventure with a short stay in the breathtaking beach life of Zanzibar is the ultimate way to enjoy the African experience. So what are you waiting for? Contact your tour operator today!