Safari holidays are becoming increasingly popular, and as a unique experience, it is worth knowing more about what awaits you. This would ensure that you get the best out of your holiday and avoid any problems along the way. Some safety and travel tips should be kept in mind while on safari, while there other general guidelines that must be noted before your arrival and observed while in the country. 
African safari adventures are full of exciting experiences, such as the chance of seeing the famous ''Big Five'' – lion, leopard, buffalo, elephant, and rhino – during the drives included in the itinerary. It is not the wildlife alone that is attracting tourists to Tanzania; think exotic cuisine, beautiful beaches, great music, and a wonderful climate. If you are already excited, wait until you have arrived for your Tanzania safari adventure. Remember these few safety and travel tips to ensure your experiences are only positive:
Keep your distance. An experienced safari driver will know how close he can drive to wildlife. Some will completely ignore a vehicle, typically lions who sleep in the shade by day if they can.  Others such as female elephants with young may feel threatened by an apparent invasion of their territory. Too close and you may be moving off before a problem arises.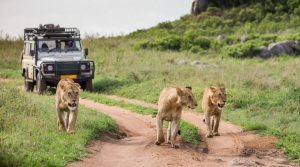 Never leave your safari vehicle unless instructed to do so. You can never be certain if any danger is lurking so you should follow the instructions of your tour guide at all times. It will only be in a designated place that you may all get out of the vehicle for a break and refreshments.
Avoid disturbing wildlife by making a noise or even trying to touch seemingly tame wildlife; nothing is tame on safari and noise can create a negative reaction. Don't be surprised by a sudden animal sound which happens all the time. Sometimes such sounds are warnings, for example when an approaching lion is seen by a zebra. It may be an elephant saying come no closer. Don't worry, your guide will have things under control.
Follow your guide's instructions at all times. He is the one whose working life is around the animals, so his experience tells him what to do in any circumstances that arise during your game drives.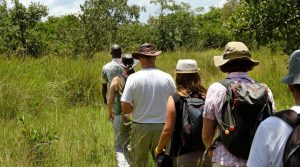 You should wear neutral clothing that naturally blends in with the natural environment. Colors like beige, subdued green and brown are ideal; forget red, pink and bright blue, keeping them for the beach at the end of the safari.
Walking safaris are fun and exciting, but they call for even more discipline from tourists so that they are not suddenly surprised or put into dangerous situations. Listen to your guide carefully even if you think what he is saying is unimportant.
Rivers and lakes are potentially dangerous even if you can see no signs of wildlife. Don't swim in either even though they look very inviting on a hot day. Hippos can be seen easily but you would not see a crocodile underwater. If your safari holiday ends with time on Tanzania's lovely coastline, you can swim all day long.
Game drives often include a food and drink break designed by the tour company. It takes away the need to tempt hungry wildlife with the food that it sees you eating. Be happy with those arrangements and settle for a bottle of water as you drive around if you need one. It will be hot, and you should ensure you are always properly hydrated.
Before traveling to Tanzania, you should check with the medical advice on vaccinations and tablets recommended to avoid catching any disease while on safari. Don't think ''it won't happen to me because I've always been healthy'' because that approach can ruin your holiday. Malaria tablets often call for you to start taking tablets in the days before you leave home and continue for a while after your holiday. Follow those instructions.
When you pack for a holiday in countries such as Tanzania, loose-fitting cotton clothing is ideal. You can wear shorts and short-sleeved shirts of course but think about insect repellents if you do. Otherwise, light cotton trousers can protect your legs from insect bites. Have a hat to protect your head and sunglasses to counter the glare. Comfortable footwear is also important.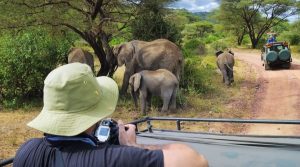 The memories that you take home will fill your mind with images, but it is great to have those images in your camera as well. If you are not an experienced photographer, get some advice. A good lens is invaluable in bringing the animals closer to you.
The political situation in many African countries is volatile. You should read about Tanzania before you travel but you can be certain that there is minimal chance of any tourist facing a problem while out on safari.
African Overland Tanzania has unrivaled accreditations and expertise with regards to organizing African wildlife safaris. We provide accurate and relevant information on every aspect of your safari experience. With a highly-skilled group of educated guides, we offer the best wildlife adventures around. While specific sightings of wildlife can never be guaranteed, our guides have an intimate knowledge of the country and the best places to find specific animals.
Client input into discussions with us is more than welcome. Safari time is precious, and you can rely on us to make the best use of that time, but you may also want other things from your holiday. Perhaps local culture, music, and cuisine are almost as important? No problem! After your time on safari, you may just want to relax and the beach; that is easy to arrange as well.
We offer a wide variety of Tanzania safari packages as well as customized tours tailored to your dream vacation. Contact us and we'll help you plan your Tanzania safari adventure.